InternetTest is a versatile network utility for Windows. It can do many things, such as locating IP addresses, sending ping requests, recovering WiFi passwords, displaying DNS info, tracing routes, and more.
Download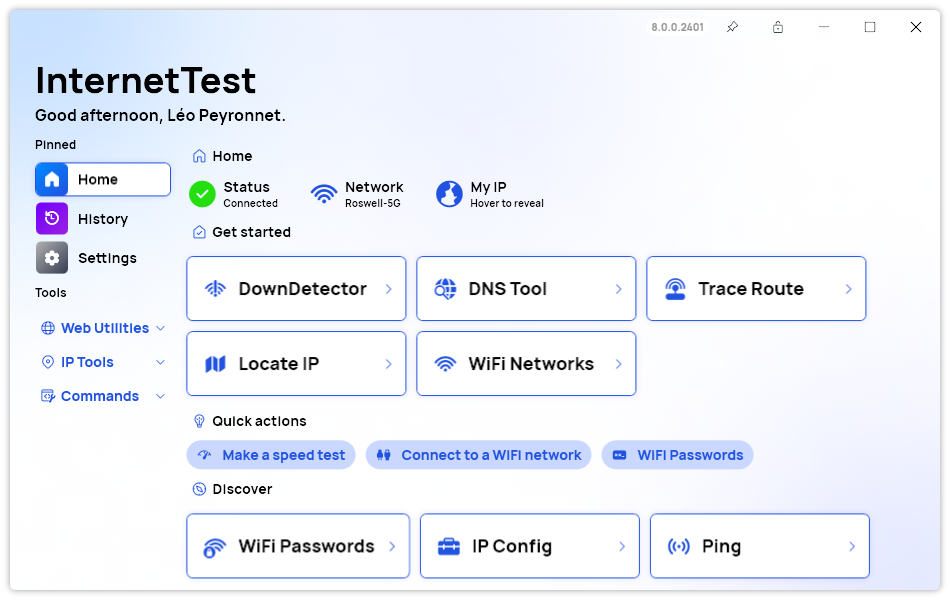 
A new and improved user interface
InternetTest Pro, also called InternetTest 7, offers a new user interface; you will notice a brand-new side bar with "pinned" actions and different menus. You can access your favorite functionalities using this new side bar, or by using the "Home" dashboard; it is a place specially made for you where you can quickly find useful actions and features. We have added subtle animations as well.

IP Locator
InternetTest Pro IP Locator is a feature that allows you to find out more information about any IP address or website URL. You can enter an IP or a website URL in the search box and get the approximate location and details of the IP, such as the country, region, city, and ISP. You can also see the approximate location of the IP on a map.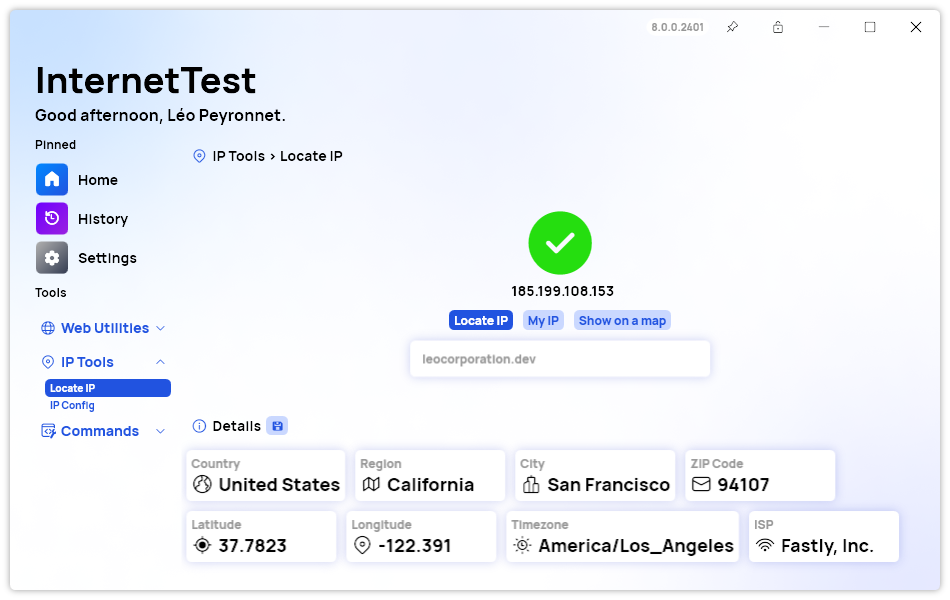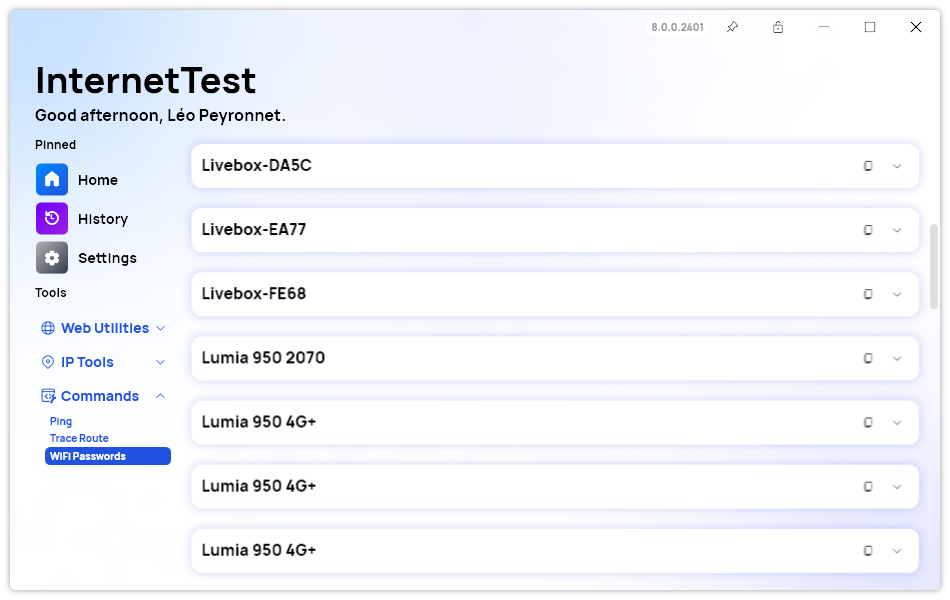 
Recover your WiFi Passwords
InternetTest Pro also lets you recover the passwords of the wifi networks you have connected to in the past. You can also view basic information about each network, such as the protocol and the SSID. You will see a list of all the wifi networks you have ever connected to. Tap on any network to see its password and details. You can also copy the password to your clipboard.

Ping Feature
InternetTest Pro Ping feature is a useful tool for testing the connectivity and latency of your network. It lets you run a ping command from your device and see the results in real time. You can choose the target host, the number of packets, and the interval between them. You can also view the statistics of the ping test, such as the minimum, maximum, and average round-trip time, and the packet loss rate.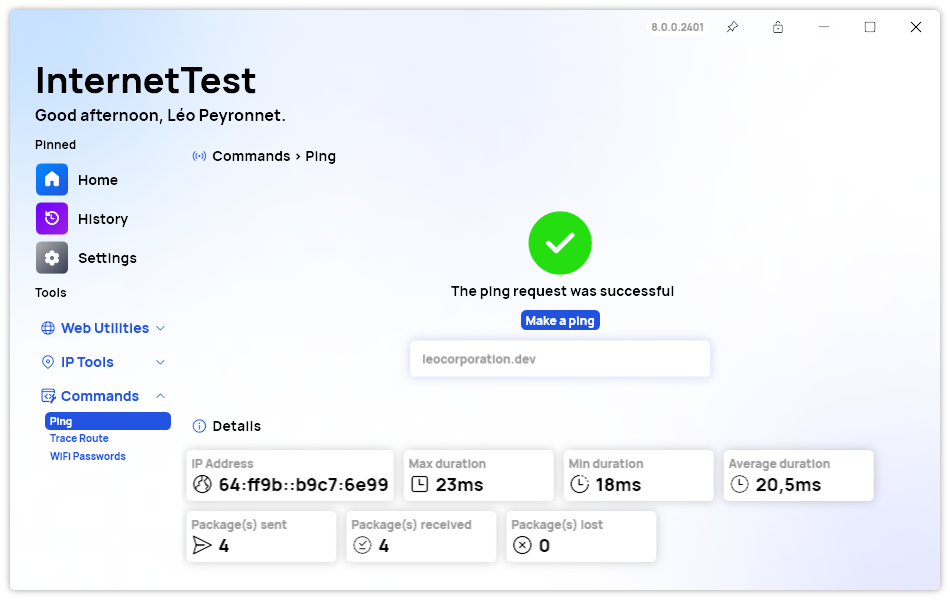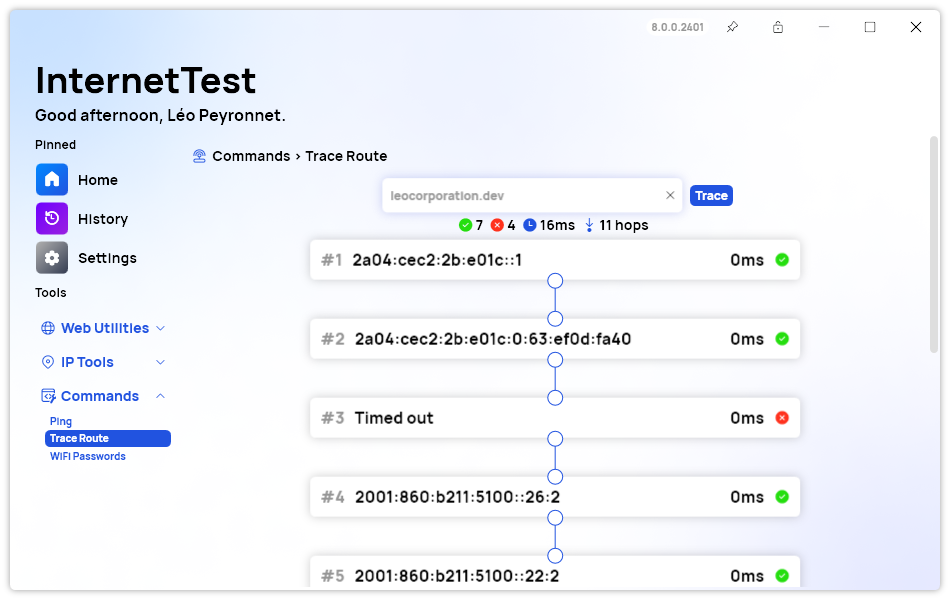 
Trace route command
The Trace Route feature allows you to execute a tracert command and get the results. A tracert command shows you the route that your data packets take from your device to a destination server. It also displays the time it takes for each hop along the way. This can help you identify and troubleshoot any network issues or bottlenecks that may affect your internet experience.

Get your IP Config
The IP Config feature is a useful tool that lets you run the ipconfig command and see the output. This command shows you the configuration of your network interfaces, such as IP address, subnet mask, default gateway, and more. You can use this feature to troubleshoot network problems or to check your connection details.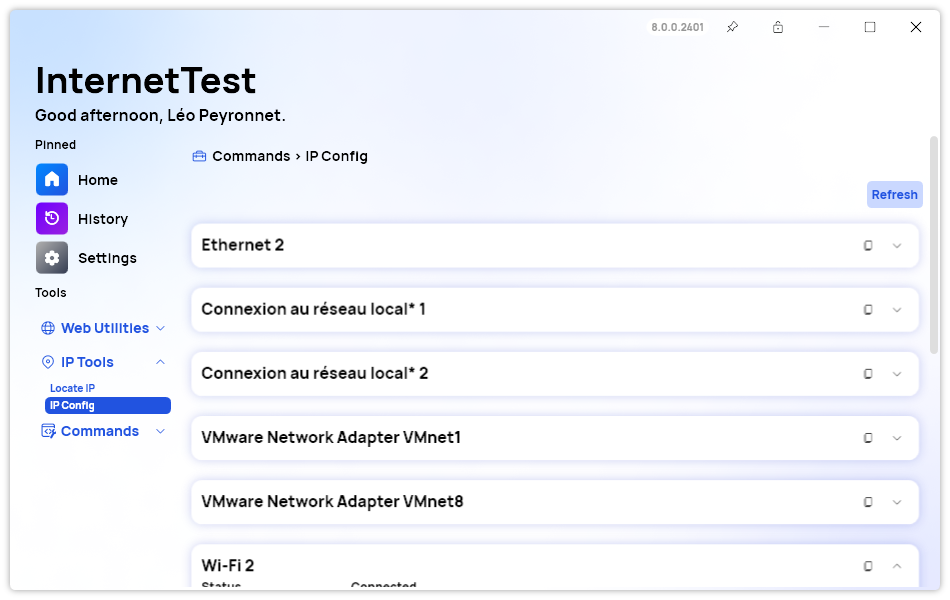 Get the app
By downloading InternetTest Pro, you acknowledge that the app can have these permissions:
Read the registry
Display notifications
Connect to the Internet
Download updates with your consent
Access your file system
Execute Windows commands
Download